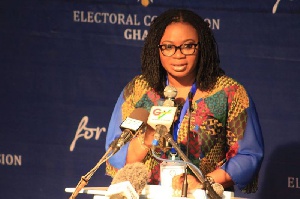 The Electoral Commission will today begin vetting the Presidential and Parliamentary nominations forms submitted last week.
At least seventeen hopefuls were able to turn in their nominations for EC's approval ahead of the crucial polls slated for December 7.

The EC chairperson, Charlotte Osei told the media, the commission will take about 7 days for it to vet the submitted forms and produce a list of eligible candidates.

"The commission has gone through the process of receiving the forms, we will now vet the forms and make sure that they are in compliance with the legal requirements under the constitution and subsidiary legislation. For the candidates who have met the legal requirements their nominations will be accepted; which will mean that their names will be on the ballot paper for the December 7, election," she said.
The presidential aspirants who have filed their nominations to contest the December 7 polls include; Nana Addo Dankwa Akufo-Addo of the NPP, John Dramani Mahama of the NDC, United Freedom Party represented by Akwesi Odike, United Freedom Party Agyenim Boateng, Hassan Ayariga APC, Kofi Akpaloo IPP, Akua Donkor of the GFP and Nana Konadu Agyeman Rawlings NDP.

The rest are Kwabena Adjei RDP, Papa Kwesi Nduom PPP, WO1 Richard Nixxon Tetteh UDSP, Dr. Henry Lartey GCPP, Ivor Greenstreet CPP, Edward Mahama PNC and Thomas Ward Brew DPP.

The two Independent Presidential candidates who also submitted their forms are Jacob Yaw Osei and Kwame Asiedu Walker.