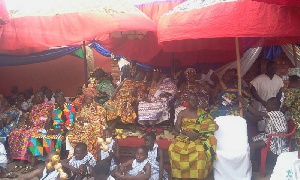 The GHC50, 000 filing fee for presidential aspirants which is being contested in court by some political parties is a pittance, according to a chief.
The chief of Akuapem Larteh, Nana Asiedu Okoo Ababio III, also wants the Electoral Commission to review upward the GHC10,000 filing fee for parliament candidates in the December 7 elections.

He said the EC should not kowtow to a plea by some of the political parties for a reduction, explaining that political parties are well resourced to foot that bill easily.

"The registration fees of GHC50,000 and GHC10,000 per Presidential and Parliamentary candidate respectively is just a fraction of what parties throw away and must not be reduced. Parties who cannot pay should honourably withdraw [from the race]," Nana Ababio III said at a durbar Saturday to herald the Odwira festival which was also attended by vice president Kwesi Amissah-Arthur.
The traditional ruler also kicked against state sponsorship of political parties because he believes the groupings have enough and splash it around during election years.

"Agitations by politicians for the funding of political parties by government should be treated with contempt. A positive response will lead to the formation of multifarious political parties all in the hope of getting freebees from government. We need money for health and education activities," he added.

The Progressive People's Party is in court over the filing fee and the debate about state-sponsorship of political parties have been lingering on for some time now.