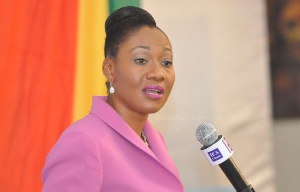 The Opposition National Democratic Congress (NDC) is accusing the Electoral Commission (EC) of deliberately undermining the Inter Party Advisory Committee (IPAC).
According to the largest opposition party, the Jean Mensah-led commission conceals vital information from key stakeholders, one of such, is the failure of the EC to disclose its budget for the upcoming limited voter registration exercise.

The NDC is also not happy with the EC's decision to maintain its structure for the registration exercise despite objections at IPAC.

Speaking on Morning Starr Thursday, NDC's Deputy General Secretary Peter Otokurnor said: "we have a major challenge with this current reconstituted crop of EC officials. We have heard argument from the deputy commissioner...that IPAC is unconstitutional and the EC does not need IPAC to operate. That posturing is most dangerous."

But the governing NPP says accusations by the NDC are unfounded.
Director of Elections of the party Evans Nimako also speaking on the Morning Starr stated: "On our part, we are getting worried with the posturing of the NDC concerning views that are discussed and positions taken at the IPAC."

Meanwhile Pollster Ben Ephson is blaming the EC for the current tension between them and the largest opposition party.

According to him, "IPAC is a creation of common sense to enable this country go forward after various consultations with stakeholders" and the EC must afford it the respect they deserve.