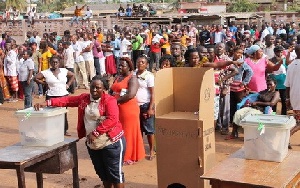 Sun, 2 Aug 2015 Source: GNA
Mr Joseph Kwaku Asamoah, Director of Finance of the Electoral Commission (EC), has hinted that the Commission would create more polling stations ahead of the 2016 presidential elections.
This is to reduce pressure on the biometric verification devices and also to ensure that the election does not travel into the night.

Mr Asamoah gave the hint at a sensitisation forum of voters on the District Level Elections (DLE) with Civil Society Organisations (CSOs), Community and Faith Based Organisations (FBOs) and the Media in Ho.

He said modalities on the creation of additional polling stations would be discussed with the political parties and assured that accessibility to voters, especially persons living with disabilities would be paramount.

Mr Asamoah said ideally, no polling station should have more than 500 voter population, to ease pressure on the election process.

On the impending District Level Elections, Mr Asamoah said, it was already generating keen interest and called on all eligible voters to participate in it.
"The electorate plays an important role in ensuring the credibility of elections so we want people to turn up massively," he said, urging women to participate fully in the exercise scheduled for September 1, this year.

Mr Asamoah said the Commission would provide two biometric verification devices at every polling stations as well as back-ups to avoid interruptions during elections.

He said the Commission was implementing some reforms to enhance the credibility of the elections and called for support from all.

Mr Asamoah said the Commission has a robust electoral system and among the very best in the world and cautioned against people attempting to cheat during elections.

Madam Laurentia Kpatakpa, Volta Regional Director of the Electoral Commission, appealed to CSOs, FBOs and other stakeholders to help ensure the credibility of the District Level Elections and future ones.
Source: GNA