Politics Sat, 17 Nov 2018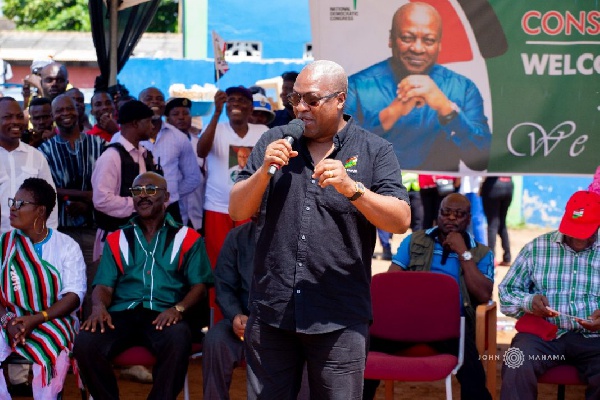 Ex-president,His excellency John Dramani Mahama has exhorted delegates for today's congress to as a sense of duty go to the polls and elect National Executives they can trust for victory in election 2020.
According to him,the NDC cannot fail the people of Ghana who are ready and willing to change the negative course charted by the current administration in the 2020 elections.

The former president in a Facebook post monitored by Ghanawebs' Ananpansah B Abraham admonished delegates to eschew material influence in deciding their vote, adding that, only competent and trustworthy leaders with high stakes among members of the party much be voted for.

" The people of Ghana are ready and willing to change the negative course in the 2020 elections. We, the NDC, cannot fail them! To end this hardship by winning emphatically the 2020 elections, we must elect National Executives we can trust. Executives who are hardworking and committed to the noble Victory 2020 agenda,"he said.

The former president who is in the race with over 10 contenders in a bid to lead the NDC into the 2020 general election said he has criss-crossed the country and visited the various regions and the message from the grassroots of the party is one,"to unite and work to deliver Ghanaians from the unprecedented hardship imposed by the lying Akuffo-Addo administration".
The NDC party today,Saturday November 17,will converge at the Trade Fair Centre in Accra to elect national executives to steer the affairs of the party for the next four years.

Over 28 delegates from each of the 275 constituencies,and a total 9,350 delegates, 5,650 observers are expected to throng the Trade Fair Centre,La,for the Congress.

Ten (10) positions are up for grabs with a total of 65 candidates vying for the various positions. The positions are: national chairman,vice-chairman,general secretary,deputy general secretary,national organiser,deputy national organiser, communications officer,deputy communications officer,national executive committee members and the Zongo caucus coordinator.

So far,the race for national chairman and general secretary have been adjudged the most keen.