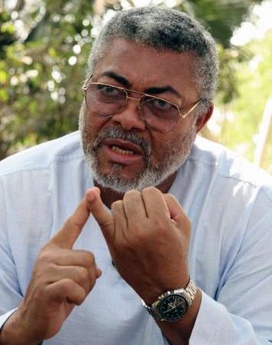 Mon, 26 Nov 2012 Source: Joy Online
Former President Jerry John Rawlings has lauded the presidential candidates' pledges to fight corruption, which they made during a recent IEA debate, but he has also charged Ghanaians to hold the winner of the polls accountable to fulfill this pledge.
He was speaking at this year's Kakube festival at Nandom in the Upper West region.

"It is important that we hold all our candidates to task on that issue. Whoever wins must make sure that issue of fighting corruption is taken on seriously.

"We are not just talking about financial corruption but all kinds of corruption," he noted.
There, he also rained praises on the Attorney General and Minister of Justice Dr. Benjamin Kunbour, who is contesting the Lawra Nandom constituency, currently held by the NPP's Ambrose Dery.

In spite of a minor admonition from Dery, who urged Rawlings to remain neutral and not to campaign for anybody, the ex-president said there was no way he could visit the constituency without putting in a good word for his old friend Kunbuor.
Source: Joy Online