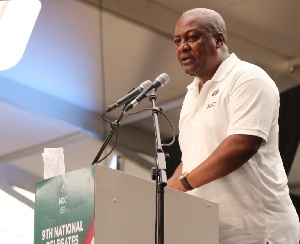 Former President John Dramani Mahama has asked Ghanaians to discard the notion of electoral strongholds, indicating that the electorates are now interested in voting for a party that they believe can make their lives better.
He told National Democratic Congress delegates at Bantama in Kumasi to stop seeing the Bantama Constituency, and the Ashanti Region in general as the stronghold of the New Patriotic Party.

Mr. Mahama observed people now don't just vote for the love of certain political parties or traditions but what that political party can do to make their lives better.

"So we should discard the notion that some places are strongholds of the NPP and therefore we cannot win those places," he stated, adding "What the voter is looking for is the party that will govern the country properly and give them a good standard of living, as the previous NDC government was doing".

He observed despite the lofty promises made by the NPP during in the run up to the 2016 general elections, they have saddled Ghanaians with untold hardships after nearly two years in government.

Touching on number of people who have been laid off as a result of the government's harsh economic policies, Mr Mahama noted that it is unlikely that those who have lost their jobs will still rally behind the NPP.
This, he said is because the government has facilitated the collapse of their businesses and employment.

Mr Mahama was of the view that with hard work, unity and determination, the NDC will be able to win more votes in the Ashanti Region in the next general elections.

He has therefore charged members of the party, especially the constituency and branch executives, to help unite the party for victory in the 2020 elections.

Mr Mahama said, when elected, he will work hard to provide jobs and reduce the high cost of living in the country.

He has also promised to help constituencies own their offices, compile a database of the human resource capacity of NDC members as well as roll out a mentorship programme for the youth of the party.