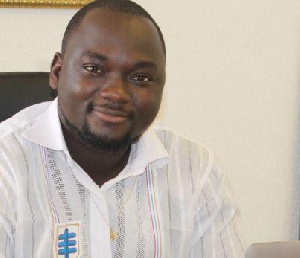 Pollster and Editor of the Daily Dispatch Newspaper, Ben Ephson has cautioned the camp of the defeated parliamentary candidate of the New Patriotic Party (NPP) in the Korle Klottey constituency, Valentino Nii Noi Nortey, against standing as an independent candidate in the November 7 polls.
It appears cool heads have not prevailed in the Korle Klottey constituency after Nii Noi Nortey lost to his close contender Philip Addison in the rerun of the polls following a protracted litigation in court.

Nii Noi maintains that the party schemed to ensure his defeat and is, therefore, considering the option of going as an independent candidate in order to contest with the winner in the November polls.

Speaking on Ultimate FM's political analysis programme, Fact File his spokesperson Kisi Yeboah Prince disclosed that Nii Noi's camp is consulting among itself to consider a re-run of the polls, contest the results in court or call it quits.
"There are three options involved, either we go lick our wounds, contest the results in court or contest as independent candidate. The party should have known that if he contests as an independent candidate, it could affect its chances in the area before scheming in favour of another," he observed.

He, however, indicated that the candidate is making broader consultations and will announce his decision to supporters who have been disappointed with the results.

However, pollster Ben Ephson believes any adverse decision will only make it easier for the ruling National Democratic Congress (NDC) to win the hotly contested seat.