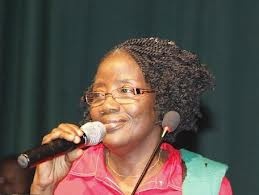 Mrs Matlida Amissah-Arthur, wife of the Vice President, on Friday called on women to exercise their franchise in the December elections in order to elect candidates that would advance their aspirations.
She made the call when addressing representatives of women professional bodies and Muslim women during her three-day visit to the Western Region at Fijai near Takoradi.

Mrs Amissah-Arthur said women would have to consider their welfare and development and vote for candidates of their choice. She said this could require women to vote for their preferred candidate, independent of the choice of their husbands.

Mrs Amissah-Arthur said she would use her position to champion the cause of women and help women groups address their various needs.

She said the NDC has done a lot to improve the lives of women and will continue to improve their lot when it wins the election.
Addressing students of Holy Child Teacher Training College, Mrs Amissah-Arthur urged the students to take their studies seriously and remain disciplined.

Mrs Amissah-Arthur said "discipline is the hallmark that would take them far and discipline persons love one another and do not insult and run others down".

Madam Emelia Arthur, Deputy Western Regional Minister, said it was important to stay united as the December 7 polls would soon be over "so let us keep the peace and remain focused".