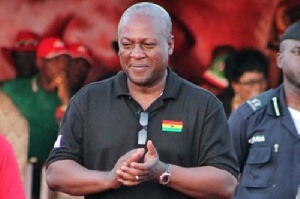 The chiefs of the Volta Region have fabulous energy that can move mountains, President John Dramani Mahama has said.
According to him, their energy and enthusiasm shown during his visit there this week has made a lasting impression on him.

Mr Mahama is on a five-day campaign tour of the region ahead of the December 7 presidential elections.

He has promised the people of the Gbi Traditional Area in the Hohoe municipality that he will repair the chief's palace that was burnt during a conflict in the area in 2009.

According to him, the committee that was set up to find out the cause of the conflict and give recommendations had finished with its work and submitted its final report to the Ministry of Local Government and Rural Development and the Attorney General.
He said: "… After the conflict, a committee was set up and the committee came up with its recommendations and its findings. The findings and recommendations were given to the Minister for Local Government and Rural Development and the Attorney General. I want to assure that we are going to implement the … recommendations of the committee to the full."

He added: "We have started the implementation with regards to the restoration and repair of Togbe's palace. There are shops that were burnt – about four, five, six shops in town were brunt, two people lost their lives and other properties were destroyed. We are doing an evaluation of those properties so that we can pay compensation to the people who were affected.

Mr Mahama subsequently wrote on his Facebook page: "My chiefs and my brothers and sisters from the Volta Region made a lasting impression on me! Their pure joy warms every heart, their fabulous energy moves every mountain! Humbled to be your president, my brothers and sisters! God bless all of you forever!"