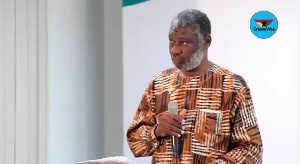 An aspirant in the National Democratic Congress (NDC) chairmanship race, Huudu Yahaya, has charged the party youth and women wings to look beyond the party delegates congress and focus on 'victory 2020' for the party.
The NDC will Saturday, October 27, hold its youth and women wings national delegates' congress at the Pentecost Convention Centre at Gomoa Fetteh near Kasoa in the Central Region to elect youth leaders who will work with the party leadership into the 2020 elections.

Mr. Yahaya, whose aide had described him as an man of integrity, in a goodwill message acknowledged the youth as the foundation of the NDC and urged them to elect their leaders "in love and unity, having the ultimate focus on victory 2020 in mind."

He wished all participants well and encouraged them to prioritize the interest of the party in their dealings.
"I wish all delegates participating in the youth and women conference well. As you go out to elect your next youth and women organizers, remember to put the party first in all decisions you take", his statement issued on Friday said.

He noted the party has been through hard times but believes it will take a collective effort for the party to get back on its feet.

Mr. Yahaya reiterated "The future and strength of our party rest on the hardworking youth and women", calling on party delegates, candidates and the party leadership to endeavor to work in the best interest of the party.