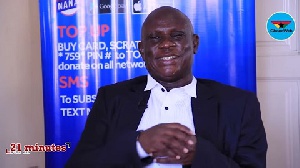 Deputy General Secretary of the ruling, New Patriotic Party (NPP) Obiri Boahen has said the National Executive Council (NEC) of the opposition National Democratic Congress (NDC) agenda to sell the party to former President John Mahama to the detriment of those who have openly declared their move to contest Mahama aimed at winning the 2020 elections will fail.
According to him, NEC is aware that the only person who can afford the GHC420,000 filing fees to lead the party as the flagbearer for the 2020 elections at this moment is John Mahama but there is no way former President Mahama can be reelected as the President of the Republic of Ghana.

"I was not surprised when I heard the NDC GHC420,000 filing fees, unless of course, you have not been following the politics of NDC in recent times, if you are following the politics of NDC in the recent times you can say in authority that they are championing Mahama's agenda but nobody else. But there is no way Mahama can win the 2020 elections" Obiri Boahen indicated.

Lawyer Obiri Boahen was speaking on Accra based Okay FM monitored by thepressradio.com on Friday, November 30, 2018.

All male flagbearer aspirants of the NDC are expected to pay GHC400,000 as filing fee while female flagbearer aspirants are to pay GHC200,000 and persons with disability aspiring to the same position are to pay GHC150,000.

The nomination form for the flagbearer slot is going for GHC20,000. Also, Parliamentary aspirants are expected to pay GHC20,000 as filing fees of which female aspirants will pay have of that.

The party took the decision at a NEC meeting on Thursday, November 29 at the party's headquarters in Accra.
So far, twelve people including former President John Dramani Mahama have indicated their interest to run for the flagbearer slot of the party in the presidential primaries scheduled for 19th January 2019.

Several political analysts and party faithful have raised red flags at NEC's decision as they believe the amount involved may scare most interested people from contesting in the race.

According to Lawyer Obiri Boahen, there is no way the National Executive Council (NEC) of the NDC agenda to bring former President Mahama as the flagbearer can yield results so they should bring another candidate.

"I will advise the NDC to bring different candidate forward and sell him to make some impact in 2024 instead of Mahama and forget about 2020 because Mahama cannot make it" he admonished.