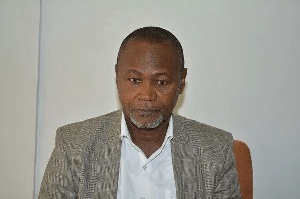 The camp of Professor Joshua Alabi, an aspiring flag bearer of the National Democratic Congress (NDC) has expressed disappointment with the GHC400,000 filing fee expected to be paid by all flagbearer hopefuls of the main opposition party.
Nii Amassah Namoale, Campaign Coordinator for Prof Alabi, has described the amount as "outrageous" and further called on the Council of Elders of the NDC to intervene.

All male flag bearer aspirants of the NDC are expected to pay GHS400,000 as filing fee while female flag bearer aspirants are to pay GHS200,000 and persons with disability aspiring to the same position are to pay GHS150,000.

The nomination form for the flag bearer slot is going for GHS20,000.

Also, the parliamentary aspirants are expected to pay GHS20,000 as filing fees. Female parliamentary aspirants will pay half of that.

The party took the decision at a National Executive Committee (NEC) meeting on Thursday, 29 November at the party's headquarters in Accra. According to the party, all aspirants have up to 10 days to submit the [properly filled forms].
Speaking on this development on Asempa FM's Ekossii Sen programme on Thursday, 29 November 2018, Mr Namoale said: "In fact, the amount is outrageous and unreasonable but this is a NEC decision. We will like to appeal to the Council of Elders to meet with the NEC to review that amount."

He added that: "The unreasonableness is on the date, you cannot use 10 days to tour the whole country to sign on the form, you can't. That 10 days is too short a time..."

He further appealed to all the other aspirants to reject the amount.

"No matter what prof Alabi will still contest. I will plead with the other flagbearer aspirants including former president Mahama to reject the amount, the fee should come below GHS100,000," he said.