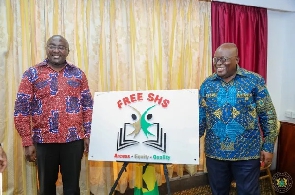 A Deputy Ranking Member of Parliament's Education Committee has requested that the government convene a national dialogue on the free Senior High School Policy as soon as possible.
Dr. Clement Apaak was responding to the Ghana National Association of Teachers (GNAT) demand for free SHS dialogue.

GNAT has called for an urgent national stakeholder dialogue to relook at the Free Senior High School (SHS) programme.

The Association wants the dialogue to be held in relation to the country's current economic situation.

According to GNAT, the dialogue should be aimed at smoothing the rough edges of the programme, leading to a review for seamless implementation.

The admission framework and processes, parameters for students' qualification, infrastructure and ancillaries, sources of funding, involvement of parents, corporate entities, parent-teacher associations, alumni, traditional authorities, and old students' associations were among the key issues that could dominate the dialogue, according to GNAT General Secretary Thomas Musah.
He came up with the remarks while speaking with GraphicOnline.

In response, Dr. Clement Apaak stated that every stakeholder in the education sector, with the exception of the government, has called for a dialogue on how to improve the policy.

He tweeted that the policy was fraught with difficulties and that the best way to address them was for the government to step in.

"Stakeholders except gov't have clamoured for a forum/dialogue on the FSHS policy to address implementation challenges. The objective, as JM has indicated on many occasions, should be to make the programme better. Will NADAA agree to a national dialogue to review FSHS this time?"