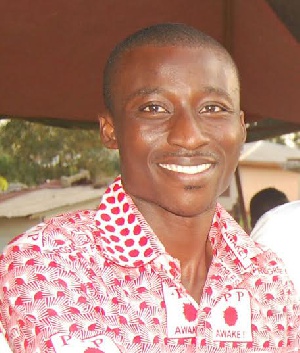 Sat, 5 Nov 2016 Source: GNA
The Progressive People's Party's parliamentary candidate for Obuasi East, Mr Danyansah has questioned the growing disparity between the rich and the poor amidst abundant oil and gold resources.
The aspiring Member of Parliament (MP) said the decline in other previously dominant sectors of the economy and Ghana's over dependence on imports is an indication that that country is under resource curse.

He blamed the situation on weak value additions to exports leading to an "enclave situation" as well as irregular sequencing of governance instruments.

There has also been over dependence on resource revenues by governments with high environmental and social costs that culminate in persistent civil strife which eventually has serious negative impacts on productivity.

"The time has come that I release this to the world, in fact Ghana has suffered, I call it the resource curse syndrome because we have it but the disadvantages outweigh the benefits," Mr Danyansah told the Ghana News Agency.

"Why do we as Ghanaians pride ourselves with resources given to us by the Almighty and watch it wither away leaving us with scars of poverty and pain," he quizzed.

He expressed regret that such resource spell consequences on the country might have triggered the alleged shooting of four farmers in Teberebie in 2006 by security agents acting on behalf of AngloGold-Ashanti Iduapriem Mine Limited.
He cited another incidence in July, 2005 when the Military was again alleged to have opened fire on unarmed demonstrators – wounding seven people in Prestea.

In April 2004, he said, in Obuasi the then Ashanti Goldfields Company (AGC) in a two-day operation during Good Friday and Holy Saturday, closed down 50 illegal mining pits at Blackie Old Open Pit at Sansu and the Anyinam Cut Four Area where each pit was about 46 metres deep.

According to the Obuasi East aspiring MP, the operation came two days after shareholders had endorsed the implementation of the merger of Ashanti Goldfields with AngloGold and to get rid of intruders of the Company's concessions.

About 1,000 illegal mining operators had over recent years posed a lot of problems to AGC, he said.

The AGC was quoted as saying:"While the Company is making ongoing attempts to engage with the artisanal miners or 'galamseyers' to stay out of the lease area and to protect its property, clashes have occurred between the artisanal miners and the company, resulting in injuries to both groups."

Mr Danyansah said: "Now, 10 years down the lane, this resource curse syndrome still stares us in the face."
Source: GNA