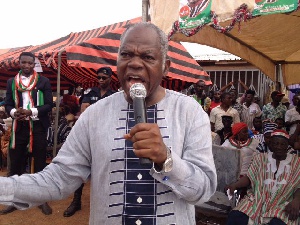 Presidential candidate of the People's National Convention (PNC), Dr. Edward Nasigri Mahama has posited that, Ghana is currently suffering from economic diabetes and needs a competent 'physician' to heal the country.
The gynecologist who is contesting for the party after a long break from the political scene in an interview with Kwaku Owusu Frimpong on Frontline on Rainbow Radio said, the challenges confronting the country all leads to one problem which is, ''Ghana is sick and suffering from economic diabetes which is extreme poverty in the midst of abundant human and natural resources.''

Dr. Mahama explained that Ghana needs a doctor (not a medical doctor) but a competent person who can prudently manage the resources of this country to the benefit of citizens.

He said, he is currently embarking on a vigorous campaign to convince voters why they should abandon both the governing National Democratic Congress (NDC), and the opposition New Patriotic Party (NPP) since both parties lacks the competence to govern Ghana.

The candidate said he is doing his part and was optimistic that, he would be considered as the best candidate to manage Ghana.

''I'm just convinced that, if people hear me and they don't vote for me, i would have done my part. I'm a Christian...A practicing Christian, I'm not a Church goer. I can only do my part and the others do their part. For lack of knowledge my people perish, that's what the bible says. The bible says do not follow the majority to do wrong.''
Dr. Edward Nasigri Mahama added that, he could have joined the other political parties including the corrupt NDC, but because he is principled and eschews corruption, he stood his ground and remained with the party that he believes can heal Ghana from its sickness.

When asked why he returned to the scene as candidate on the ticket of his party, he said, he was encouraged to come back because his admirers felt that the country was at the crossroad, and that he was the only one to do things right to get Ghana to work again.

According to him, those who wanted him to contest saw him as a rationale human being, competent and a dedicated leader with a proven track record who can contribute to the development of this country.

He said, people both within and outside his party saw him as the best option to manage this country.