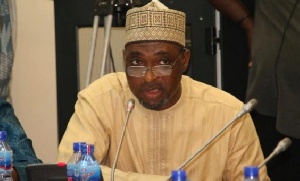 Minority Chief Whip Muntaka Mubarak has blamed the Speaker of Parliament, Professor Mike Oquaye for the passage of the controversial legal profession regulations Bill 2018.
The bill which was passed on Friday allows the General Legal Council (GLC) to continue to conduct entrance exams at the Ghana School of Law.

The committees led by Bawku Central MP Mahama Ayariga and Ben Abdallah last week agreed to the contentious request by the GLC to conduct entrance exams for law students. It, however, rejected the conduct of interviews as part of the admission process.

But the Asawase MP believes that the Speaker's autocratic rule led to the passage of the bill.

"Everybody sees how terrible the Speaker is taking decisions in the House," he told Starr News' Parliamentary Correspondent Ibrahim Alhassan.
He added: "And I keep repeating that the Civil Society should be interested in how the Speaker is conducting himself. It is so terrible. We have rules [and] as for listening to us, you listen, make your ruling and if we want the ruling we know what we want to do. But to deliberately and continuously do what he is doing…He is the biggest threat to our democracy."

He continued: "Look at our standing orders, you vote—a member has the right to challenge the vote and ask that you should do either a headcount or to go for a division…the way he is behaving I think that all of us need to be very concerned and very worried about the way the Speaker is conducting himself.

"It is too much unbecoming of somebody who has written so many books on theory and now he has the opportunity to turn his theories into practicals, he is completely messing up."