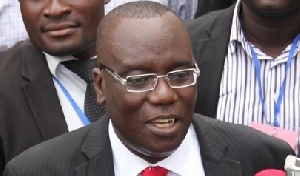 Sat, 9 Jan 2016 Source: peacefmonline
The former Chief Scribe of the opposition New Patriotic Party (NPP), Kwadwo Owusu Afriyie has always been an ardent critic of the Mahama-led administration and is not stopping anytime soon.
According to Sir John, Ghana will "sink like the Titanic ship" if President Mahama is voted again into power in the coming election.

He noted that – President Mahama's "incompetence" has led to destruction and suffering on the electorates – after expressing optimism that the country's "ailing economy, the frustrating power crisis and an unreasonable increase of tariffs" can never be solved under this NDC administration.
The only hope for Ghana he claims is the New Patriotic Party [NPP] led by Nana Addo Dankwa Akufo-Addo – "Nana Addo will salvage Ghana from the mess created by Mahama [President]."

"NPP wo Krom…Ghanafo) Wo Krom, we are just waiting for the 2016 election. No Ghanaian after all this suffering will vote again for the NDC. They are fed up," he said on NEAT FM's morning show, Ghana Montie.
Source: peacefmonline