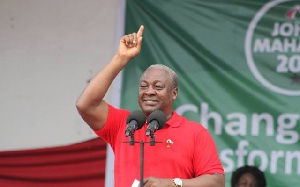 President John Mahama has noted if the opposition New Patriotic Party (NPP) fails to recognize his "good works" God in heaven will always be his "witness."
According to him, he used his first term to do what he could to transform the lives of Ghanaians, but if the main opposition decides not to give credit where it is due, then he will leave that to God to judge.

Mahama has come under severe criticism this election year from one of his fiercest critics – Dr Mahamudu Bawumia, the running mate of the NPP – and has often been described as corrupt and incompetent.

However, speaking at a rally in Ablekuma North constituency in the Greater Accra region Tuesday, President Mahama said Bawumia and others have no moral right to describe him as such because as Deputy Governor of the Bank of Ghana in the Kufuor administration they failed to disclose the cost of the cedi redenomination exercise in 2007.
"Do we remember the Cedi redenomination under President Kufuor? During that time, someone [Bawumia] was the Deputy Bank of Ghana Governor and up till now, even I as a President do not know the cost of the redenomination exercise.

"Up till today, no Ghanaian knows the cost of the redenomination exercise and the same people come and say someone is incompetent. When you redenominated the cedi, how much did it cost us? Simple things like these you cannot tell us and you have the nerve to come and talk about corruption. Look in the mirror and look at yourselves.

"Take the log out of your eye before you point at the mote in somebody's eye. Only God doesn't make mistakes. I am human, I am not God. I am not saying I have done so much, but I have done what I can and if others say they have not noticed what I have done, God who is in heaven is my witness and he sees the good works NDC has done."