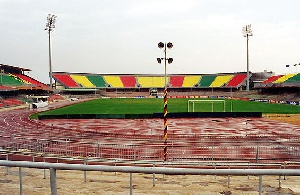 The Government of Ghana has performed creditably in the promotion and development of sports in the country, and, therefore, deserves commendation, the Chairman of the Parliamentary Select Committee on Sports, Kwabena Mensah Woyome, has said.
According to the Member of Parliament for South Tongu, government would continue to ensure that resources were allocated to the sector in order to maintain the current status and improve on it in the future.

His comment comes with only 51 days to the general elections, and he believed the good performance would inform the decision Ghanaians would make in the upcoming elections.

He told Accra Sports in an interview: "In the context of resource allocation, much has gone into the sports sector and much of it has gone into football in particular. If you look at the quantum, it's a huge figure."
He disclosed advanced plans to implement the Sports Bill to regulate the activities of the sporting federations in the country.

"There is the need to have a legal framework, so government has actually done a lot of consultations, got some consultants to work. They have been able to put together a good bill which will re-empower the sports authority and get them to enable to manage the various federations effectively," the MP noted.