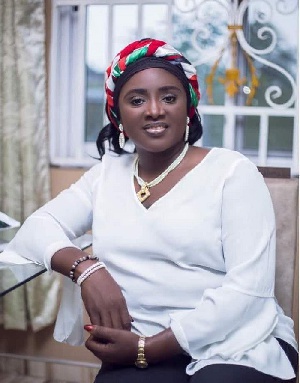 National Women Organizer of the main opposition National Democratic Congress (NDC), Hanna Bissiw, has boldly declared her unflinching support for Asiedu Nketia as General Secretary and the candidature of John Mahama ahead of the National executive and party's presidential primaries.
Though this may seem a breach of the party's guidelines for National Executives, she believes they are the best pair to ensure the party's victory in the 2020 elections.

According to her, she believes in the competencies of all the other candidates seeking to lead the NDC in the 2020 elections, but the former president stand tall against all of them.

Speaking on Okay fm's Ade Akye Abia programme, she reiterated that her respect for all the candidates is unquestionable but In view of the situation currently, John Mahama is the best option to help secure power in 2020.

She also declared support for incumbent General Secretary of the party Johnson Asiedu Nketia who is being challenged by his deputy Koku Anyidoho in the polls scheduled for Saturday.

"We have wonderful people representing the NDC. But I have openly declared my support for John Mahama and Asiedu Nketia even before I became the Women's Organizer.
Listening to the clarion call of the average Ghanaian, they need the NDC back and we cannot afford to disappoint them. It is the party's duty to restore hope to Ghanaians and that is what we working towards as a party," she added.

About 66 people are vying for various national executive positions on Saturday. The positions include National Chairman (or chairperson) position, Vice Chairmen, General Secretary, Deputy General Secretary, Deputy General Secretary, National Organizer, National Deputy Organizer, Communications Officer, Deputy Communications Officer, NEC executives and Zongo Caucus.

The party will also elect its presidential candidate in December 2018.

Most of the national executives and presidential aspirants are campaigning nationwide in a bid to garner a lot of votes at the primaries.