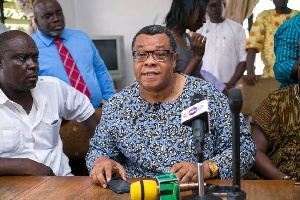 Fri, 26 Oct 2018 Source: Emmanuel Coffie
Indigenes of Accra business hub, Osu have commended the National Democratic Congress presidential hopeful, Augustus Goosie Tanoh over his visionary leadership role played to ensure Osu Korle Klottey attains municipal status.
Osu Citizen's group known as Movement For The Attainment of Municipal Status for Osu have since 2015 being pushing for the need to delink Osu from the Accra Metropolitan Assembly (AMA).

The movement maintained, Osu had in the past suffered administrative indifference and neglect at the hands of the AMA which according to the group impedes growth and socio economic development, though huge taxes are collected from businesses that operate in the area.

Speaking at a public forum on "Development of Osu and the future" spokesperson of the Osu Citizens group, Ben Mingle lauded Mr. Goosie Tanoh for being "a politician worthy of trust in an era when broken promises have become a norm on the part of individual politicians and political parties".

He said since 2015, Mr. Goosie Tanoh has honoured his promise to provide financial support to facilitate work of the movement.

He mentioned in particular that Mr. Goosie Tanoh helped the group to engage the services of a consultant who provided technical advice to the work of the Osu Citizens group.
The citizens of Osu said Goosie Tanoh though not an indigene of Osu demonstrated beyond measure that he had the interest and welfare of people of Osu at heart.

Goosie Tanoh is one of 12 individuals in the opposition NDC who have officially submitted a letter of intent to the party's secretariat to contest for the vacant position of the flagbearer of the party for the 2020 presidential elections.

Ben Mingle explained that all preparatory work needed for the creation of the new Osu Korle Klottey municipal assembly had been done and approved by the president of Ghana.

He indicated that the legislative Instrument (LI) which will give legal backing and also spell out the boundaries of the new Osu assembly has been laid before parliament for consideration and subsequent passage.

On his part, Speaker of Parliament, Professor Aaron Mike Ocquaye who was the special guest of the event assured that the LI for the creation of Osu Assembly would be given urgent attention and speedy passage upon resumption from recess of members of parliament.
Osu is known for its busy commercial, restaurant and nightlife activity.

It is locally known as the "West End of Accra". Arguably, Osu is the liveliest part of Accra.

It is the preferred hang-out spot for tourists visiting the capital city and houses most of Ghana's entertainment places.
Source: Emmanuel Coffie