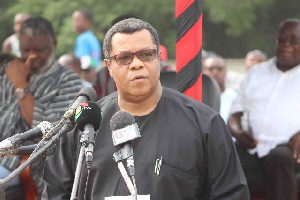 Tue, 13 Nov 2018 Source: Senyalah Castro
With less than a month for tens of thousands of delegates to go the poll, the Goosie Tanoh campaign team spearheaded by an NDC progressive group called "Organizing for Ghana" has intensified nationwide campaign, canvassing for votes to get Goosie Tanoh elected as flagbearer of the opposition National Democratic Congress.
The team led by Mr. Goosie Tanoh himself, Monday stormed the Northern regional capital Tamale to finish off a 10-day vigorous campaign up North which begun at Wa in the upper West region through to Bolgatanga in the upper East region.

Goosie Tanoh whiles addressing regional and constituency executives, party elders and chiefs in Tamale made a passionate appeal to delegates to vote massively for him to "confine the elephant (party symbol of ruling NPP government) to the bush".

According to Mr. Tanoh the ruling government has mismanaged the country's resources, let down hopes of millions of Ghanaians who voted for the New Patriotic Party (NPP) and ought to be shown the exit 2020.

However, he issued a caveat that the opposition NDC could only "detain the elephant in the bush" with a strong political party lead by a trusted, accountable and principled leader like himself to effect that change.

He told delegates to choose him ahead of other aspirants contesting for the same flagbearer slot of the opposition party.
He argued, that he was the best among the NDC flagbearer aspirants and that he had the pedigree to effect ideals that made the NDC best among other political parties and must be given the chance to lead the party.

Goosie Tanoh's personal popularity in the three Northern Region is not in question as many party activists testified about their working experience with the man who defected to unite a fractured NDC that was fast deviating from its founding principles.

Goosie Tanoh received a rousing welcomed upon entering Northern regional capital, Tamale the home region of one of his close contenders who is equally famous to the voters in that part of the country.

He was ushered into the city by several men and women riding on motorbikes amidst jubilations which attracted onlookers to wave at Goosie Tanoh convoy.

Mr. Tanoh told delegates at the regional party office that his focus was to run an issues based campaign which primarily focuses on grassroots empowerment, respect for party structures and job creation for unemployed party members.
On his part, the Northern regional NDC Vice chairman, Adolf Ali commended Goosie Tanoh for showing leadership by conducting clean campaign devoid of insult.

He called for unity among all aspirants, warning that a fractured NDC party could not secure the victory "hungry" members of the party were yearning for.

He said the party needed a united front to "fight and kill" the elephant (NPP) which he said was ruling the country.
Source: Senyalah Castro