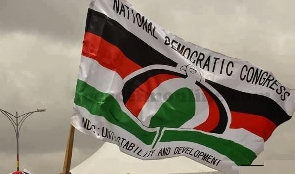 Sat, 27 May 2023 Source: Kweku Ampong, Contributor
A high-powered NDC delegation, composed of Alhaji Mahama Iddrisu, Chairman of the NDC Council of Elders; Professor Joshua Alabi, representing HE John Dramani Mahama; Vice Chairman, Chief Sofo Azoka; Upper West Regional Vice Chairman; Mahon Betty Mould Iddrisu; Mr Alex Mould; Alhaji Ambassador Nu Sulemana; UW regional executives and constituency executives of Jirapa, attended the funeral ceremony of the late Peter Nanfuri.
The ceremony of the former IGP was also graced by the top heirarchy of the police command, led by the IGP COP Dr. George Akuffo Dampare.

In the annals of Ghana's history, there are few individuals who have left an indelible mark on the nation like Peter Nanfuri, the former Inspector General of Police (IGP) of Ghana, through his unwavering dedication and exceptional leadership.

His visionary leadership transformed the Ghana Police Service, positioning it as a bastion of safety, security, and justice for all citizens.

He demonstrated remarkable foresight and strategic thinking, embracing technology and modernizing police operations to effectively tackle emerging threats.

His tireless efforts to combat crime, maintain peace, and ensure the safety of communities earned him the respect and admiration of both his colleagues and the general public.
Peter Nanfuri was a law enforcement leader who implemented initiatives to enhance intelligence gathering, promote forensic capabilities, and establish specialized units to combat cybercrime and terrorism.

He was also known for his empathetic approach to policing and community engagement, encouraging collaboration between citizens and the police.

His leadership extended beyond the borders of Ghana, contributing to regional and international efforts to combat transnational crime.

"On behalf of a grateful nation, I extend my deepest gratitude to Peter Nanfuri for his exceptional service and outstanding contributions to Ghana's security and well-being.

"His legacy will continue to guide us as we strive for a safer, more prosperous, and inclusive society."
Source: Kweku Ampong, Contributor