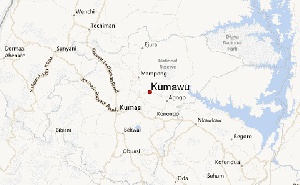 Voting is currently ongoing in the Kumawu constituency in the Ashanti Region due to the passing of the incumbent MP, Philip Basoah.
The polls started at 7AM.

Four contestants are vying to be the parliamentary aspirant for the constituency.

They are NPP's Ernest Yaw Anim, NDC's Akwasi Amankwa and two independent candidates with the same name, Kwaku Duah.

While the voting is currently ongoing, GhanaWeb highlights the history of Kumawu and the MPs who have represented the constituency since 1992:

Kumawu is a small town and is the capital of Sekyere Kumawu, a district in the Ashanti Region of Ghana.
The constituency has had its representation in parliament since 1993.

The seat has been occupied by the NPP since 1996 till date.

The only time the NDC held the seat was in 1993.

Jargisu Ibrahim is the first member of Parliament for the Kumawu constituency under the ticket of the National Democratic Congress.

However, in 1996 the NDC lost the seat to NPP's Reo Addai Basoah, and till date the NPP has retained the seat.
In 2002, Reo Addai Basoah died at the Korle-Bu Teaching Hospital after a short illness.

Following his death, there was a by-election in the constituency which saw the election of Yaw Baah as the Member of Parliament in the 4th and 5th Parliament of the 4th Republic.

However, in 2012, Philip Basoah won the contest for the NPP again and retained the seat in the 6th, 7th and 8th parliament until his sudden demise on March 2023.

The battle as to who represents the party is ongoing.

YNA/WA