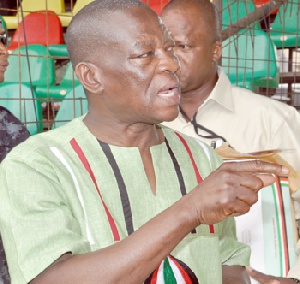 Former National Organizer of the National Democratic Congress (NDC) Mr. Yaw Boateng Gyan has dismissed assertions by his immediate successor, Kofi Adams, that the current executives inherited weak structures.
He wonders how a party that could be described as having weak structures, win general elections on two consecutive occasions.

NDC National Organizer Kofi Adams categorically stated in an interview last week that the previous national executives of his party left weak structures for the current executives.

Speaking to Kwame Nkrumah "Tikese" on OkayFM's "Ade Akye Abia" Morning Show, he claimed the current NDC executives took over weak structures but they are strenously putting measures in place to ensure that the next leadership work with solid structures.

"...the next leadership to take over NDC should be handed a party with all its structures working effectively and appropriately. Honestly, we took over weak structures in NDC but we must make sure that we hand over to the next leadership very solid structures," Kofi Adams indicated.
Reacting to the claims on the same paltform on Okay FM, Mr. Boateng Gyan demanded to know the particular people in the previous national executive committee who caused the structures to be weak.

" . . Kofi Adams and I were both national executive members . . . I am no longer there, but he is still part of the national executives till date, and so if there were weak structures, he was part of those who caused it", he argued.

"Secondly, how many people have left the national executive committee apart from myself and Dr. Kwabena Adjei? Fifi Kwetey left earlier and Quashigah was the Propaganda Secretary and the deputy was Solomon Nkansah who is now the Communication Director. Anita DeSoso was the Women's Organizer and now National Vice Chairperson; Dr. Kofi Portuphy was National Vice Chairman and now National Chairman and Asiedu Nketia remains the General Secretary.

George Lawson also retained his position as deputy General Secretary and the new person to join is Koku Anyidoho as deputy General Secretary. New people who have joined the national executive position will not even amount to 6; therefore who were at the helm of affairs at the time of the so-called weak structures era, and who did they bequeath it to?", he quizzed.