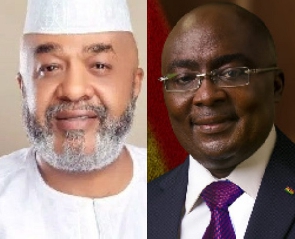 Alhaji Said Sinare, a former national vice chairman of the opposition National Democratic Congress (NDC), has raised doubts on assertions that Vice President Dr Mahamudu Bawumia single-handedly financed the renovation of the Kumasi Central Mosque.
Speaking in an XYZ TV interview on Wednesday, March 8, 2023, which GhanaWeb monitored, Alhaji Sinare said that the renovation of the mosque cost between $ 1 million and $ 1.2 million, questioning how the vice president raised such an amount of money by himself.

He added that he was previously in charge of the modernisation of the mosque, and other people contributed to it. He, therefore, urged Dr Bawumia to state the source of the funds used to rehabilitate the Kumasi Central Mosque.

"Let's assume that it is the vice president who is funding the Kumasi Central Mosque; my issue is that look at the amount involved. Can the vice president fund this project from his own pocket? That amount, a few couples of millions of dollars, where is he going to even get the money from?

"In Islam, if you are funding something in the course of Allah and the money is not Halal money, you will not get the blessing for that no matter what you do… mention the people who contributed to the project, there is no crime about it," he said.
The former NDC vice chair added that when he was in charge of the refurbishment of the mosque, one of the princes of Saudi Arabia promised to provide support for the renovation of the mosque, but he does not know how the processes he started ended.

"… when I handed over, I even told the one who took over from me, T.B. Damba, that this is where I have reached, the funding (from the Saudi Prince) was coming that particular month, continue from there, make sure that the money comes in," he said.

"If the vice president is saying that he funded it… does he have that money, something around $2 million. Assuming it cost $1 million, does he have the $1 million? How much does he earn?" he reiterated.

What the vice president said about the funding of the Kumasi Central Mosque:
Speaking at the commissioning of the Kumasi Central Mosque, Dr Mahamudu Bawumia refuted accessions that the mosque was refurbished with funds from Saudi Arabia.

According to the vice president, the mosque was redecorated and modernised with funds raised only in Ghana.

"When we started the renovation of this Mosques and from the way work on it was progressing speedily, people started spreading rumours.

"Some were saying that we were using money from Saudi Arabia for the project, but this is not true. These people have the mindset that we cannot do anything by ourselves. We can do anything if we put our mind to it," he said in the Twi dialect.
The 7000-seater mosque, arguably the second largest in the country, has a 100-capacity ablution centre and 30 underground washrooms.

The mosque also has a 500-capacity conference hall, two-bedroom apartments, and other beautiful electrical fittings, in addition to 11 furnished offices.

According to reports, the renovation and refurbishment of the mosque was done with funds raised by Dr Bawumia to fulfil a promise he made to the Muslim community in the Ashanti Region.

Watch the interview below:


You can also watch this episode of People & Places here:



IB/SEA