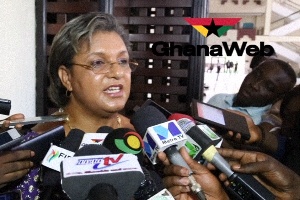 Spokesperson for the National Democratic Congress (NDC) transition team, Hannah Tetteh has countered claims by the representative of the president-elect of the New Patriotic Party (NPP) Yaw Osafo Marfo that government is illegally awarding contracts and recruiting personnel into public service despite losing power.
Speaking to the media during the ongoing transition process in Accra, the defeated MP said she is only aware of Ghana Armed Forms recruitment advertised in the newspapers.

However, she claimed it is unlikely that the exercise will be concluded before the handing over ceremony on January 7.

"I have seen an advertisement in the papers suggesting that the Ghana Armed Forces is conducting a recruitment exercise..it is highly unlikely that that recruitment exercise will be concluded before 7 January, in which case the incoming administration will then have the responsibility and then will have the oversight to see how the exercise is concluded," Hannah Tetteh said.
Osafo Marfo raised a concern that the NDC are engaging in improper recruitments and the awarding of contracts after the just ended polls during a meeting between members of the outgoing government and incoming government.

The co-chairperson of the meeting who was of the hope that the information received "from the grapevine" was not true warned that the NPP will probe these allegations when it is sworn into office January 7, 2017.

On the alleged awarded contracts by the NDC during the transition process, Hannah Tetteh also denied the accusations.