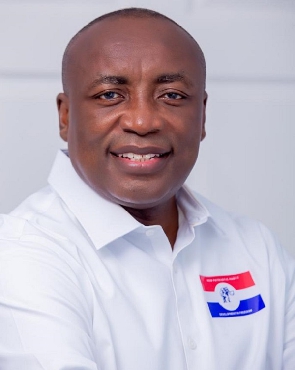 A flagbearer hopeful of the New Patriotic Party, Kwabena Agyepong has declared that he is the most suitable person to lead his party to victory in 2024.
The NPP's aspiring presidential candidate explained that the people who have been projected to win the party's presidential primary are a part of the current crippling government, hence the need to change the fortunes of the NPP.

Kwabena Agyepong stated these during the launch of his campaign in Accra on Tuesday, July 11, 2023.

The NPP flagbearer hopeful further added that his party and the entire country needs a new face and a pair of clean hands to steer the affairs of the nation and he had all these prerequisites.

"The Akufo-Addo government despite chalking successes in road and health infrastructure, tourism and of course education, it has struggled to deliver on a number of fronts. We started out saying that we are breaking dependency on Western donor agencies. The slogan 'Ghana Beyond Aid' rang from the Jubilee House with intensity and vigour but today, we lie on a stretcher. Before the International Monetary Fund, the IMF, Ghana has become in the eyes of many a case study for how not to do it.

"Our party the NPP therefore, cannot afford to put forward those who led us to this stage and expect Ghanaians to embrace during the 2024 election. We need a new face, a pair of clean hands, a leader to reconnect with our base and earn the trust of Ghanaians.

"I humbly submit, I, Kwabena Agyei Agyepong offer the hope of a fresh start for Ghana. I'm not a newcomer. I did not join our great tradition midstream after the danger had abated. I have served this party right from the get-go and in many capacities. I was there when it mattered most and also when the party was at the peak of its glory. I gathered valuable experiences doing so," Kwabena Agyepong said during his campaign launch.
In a statement signed by the General Secretary of the New Patriotic Party (NPP), Justin Kodua Frimpong, the party announced that all ten of its flagbearer hopefuls have been cleared to contest in the race after vetting.

The clearance allows the 10 candidates to engage in the Super Delegates Congress of the NPP, where the number will be shrunk to only 5 candidates.

It is this final-5-candidate list that will be presented to NPP delegates to vote on for a presidential candidate towards the 2024 general elections.

The 10 candidates include Vice President Dr. Mahamudu Bawumia, a former Attorney General and Minister of Justice, Joe Ghartey, a former Minister of Trade, Alan Kyerematen, MP for Assin Central, Kennedy Ohene Agyapong, a former Minister of Food and Agriculture, Dr. Owusu Akoto Afriyie, a former General Secretary of NPP, Kwabena Agyei Agyepong, a former MP for Offinso North, Dr. Kofi Konadu Apraku, a former Energy, Minister, Boakye Agyarko, a former MP for Mampong, Francis Addai-Nimoh and businessman, Kojo Opoku.

ABJ/OGB

You can also watch the latest episode of The Lowdown:




In the meantime, watch the latest episode of #SayItLoud on GhanaWeb TV with Etsey Atisu below: