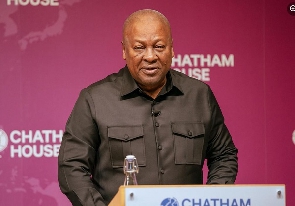 Former President John Dramani Mahama has asserted that he is prepared with fresh ideas for the country in his second coming.
He emphasized that a return in 2024 would be marked by a departure from the business-s-usual approach as exhibited by the ruling party, the New Patriotic Party (NPP).

"I can assure you that the John Mahama administration from January 7, 2025, will be different. I promise visionary and selfless leadership and not the business-as-usual approach of the NPP," Mahama's statement posted on social media affirmed.

In a series of posts, Mahama took aim at President Nana Addo Dankwa Akufo-Addo and Vice President Dr Mahamadu Bawumia, accusing them of incompetence in managing the economy and providing governance.

He contended that their leadership had inflicted significant damage on Ghana's democratic reputation, which he described as reaching an unprecedented low in the history of the Fourth Republic.

"The governance of Nana Akufo-Addo and Bawumia has eroded Ghana's democratic goodwill. Political credibility is at an all-time low, never experienced in the history of the Fourth Republic. December 07, 2024, election is crucial to restoring faith in our democracy. Poor leadership must be held accountable for the corruption and deteriorating conditions," Mahama asserted.

John Mahama previously served as President of Ghana from 2012 to 2016, before losing to Akufo-Addo in the 2016 presidential election. He unsuccessfully ran against Akufo-Addo again in the 2020 election.

He has been reelected as the flagbearer of the National Democratic Congress (NDC) for the 2024 general elections.
He has expressed confidence that he can win in 2024 and bring about the changes he believes the country needs.

The NPP, currently in power, is determined to defy the traditional eight-year cycle by securing victory once again.

Meanwhile, the National Democratic Congress (NDC) is eyeing a comeback.

The party, which lost power to the NPP in the previous election, is banking on the leadership of former President John Mahama to spearhead its resurgence.


"I can assure you that the John Mahama administration from January 7, 2025, will be different. I promise visionary and selfless leadership and not the business-as-usual approach of the NPP", the statement added.https://t.co/XwHVCksL1Z

— John Dramani Mahama (@JDMahama) September 1, 2023
The governance of Nana Akufo-Addo and Bawumia has eroded Ghana's democratic goodwill. Political credibility is at an all-time low, never experienced in the history of the 4th Republic. December 07, 2024, election is crucial to restoring faith in our democracy. Poor leadership… pic.twitter.com/0R0o4g9dni

— John Dramani Mahama (@JDMahama) September 1, 2023
AM/SARA
Ghana's leading digital news platform, GhanaWeb, in conjunction with the Korle-Bu Teaching Hospital, is embarking on an aggressive campaign which is geared towards ensuring that parliament passes comprehensive legislation to guide organ harvesting, organ donation, and organ transplantation in the country.

Watch the launch of the 2023 GhanaWeb Excellence Awards on GhanaWeb TV below:





Watch Mintah Akandoh passionately call for legislation on organ transplantation on The Lowdown on GhanaWeb TV below:




Watch the latest edition of BizTech and BizHeadlines below:





Watch the latest Nkommo Wo Ho with Maame Akua Kyei on GhanaWeb TV here:





Share your news stories and ideas with GhanaWeb


To advertise with GhanaWeb