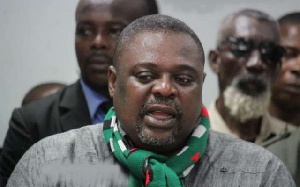 A Deputy General Secretary of the opposition National Democratic Congress (NDC), Koku Anyidoho has commended President Nana Akufo-Addo for condemning the post electoral violence over the past few weeks.
The maverick politician said truth be told, I appreciate the President for condemning the unlawful seizures and attacks after he [Nana Addo] was declared winner.

The NDC has consistently called on the president to come out and condemn the attacks. Koku Anyidoho who has been critical of the President over his refusal to condemn the attacks, was full of praise and thanked Nana Addo for his condemnation.

Some few weeks ago, the NDC called on the President to condemn the attacks.

They also called on Ghanaians not to blame them should there be reprisal attacks.

Delivering his maiden State of the Nation address on Tuesday on the floor of Parliament, Nana Akufo-Addo said, he do not subscribe to the lawlessness of political party supporters because their party has been elected into power.
The president said, wrong doing has no political colour and charged political parties to ensure that such acts are not repeated again.

According to him, when the attacks started, he instructed the immediate past Inspector General of Police (IGP), John Kudalor to apply the law irrespective of political affiliation to all law breakers and further instructed the Acting IGP, Asante Appeatu to do same adding, ''both of them acted upon it, which helped to bring the situation under control. It appears; these events were predicated on some concepts of equalization as they happened in 2009 and were repeated again in 2017. I condemn all such conducts, and I call all political parties especially the NPP and NDC to ensure that this is the last time such undignified acts happen during the period of transition.''

Commenting on the statement of the president, Koku Anyidoho said, ''I commend the President for saying that he do not subscribe to the lawlessness of party supporters because they have won power. I commend him for assuring Ghanaians that he will not allow it to happen again. I just hope it will not only be a lip service.''

The deputy scribe of the NDC hinted that he will walk straight into the office of the IGP should an attack occur again; because the president has informed Ghanaians that, he has given the police capo the go ahead to deal with such lawlessness.

''Now that the president has spoken publicly, I will walk straight into the office of the IGP when I witness any lawlessness because the president said, he has given him the full powers to deal with such issues. We have served him [IGP] notice that we will march straight to his office if our members are attacked again.''