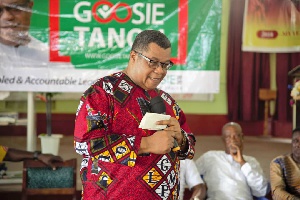 Flagbearer hopeful of the opposition National Democratic Congress (NDC) Goozie Tanoh has said breaking away from the party ahead of the 2000 general election was necessary because the NDC had lost its way.
Addressing some delegates in Hohoe as part of his three day tour of the Volta Region, Goozie Tanoh explained that the Reform Party was a sacrificial lamb for the empowerment of the party's grassroots and the atonement of their sins.

"If people had sacrificed giving their lives, giving their careers, people who were to go to the universities never went to the university because they were there dedicated to the course and principles of 31st December revolution and working day in and day out. How is it that somebody can say the voice of the masses does not matter and they can dictate to the masses what they do and that's how come reform rose to consolidate grassroots empowerment and accountability.

"Our plan is to stand up so that NDC will be stronger and firmer by showing the principles that originated its foundation. In life you must stand up for what you believe in even if it means hardship, and we believe in NDC because we were part of NDC's birth truly we were the midwives. When you have a baby and you love that baby you don't want that baby to spoil and we didn't want it to spoil that's why we rose up."

Mr. Goosie Tanoh was the leader of the National Reform Party, a breakaway group from the National Democratic Congress between 1999 and 2007 and represented this party in the 2000 presidential election, where he came third with 1.1% of the national vote.


He returned to the National Democratic Congress with his colleagues from the National Reform Party at the behest and upon several appeals made by the late President John Atta Mills in 2007/2008.

Goozie Tanoh will have to compete with the likes of ex-President John Mahama, Prof. Joshua Alabi, Ekow Spio Garbrah, Alban Bagbin, among other for the flagbearership slot of the largest opposition party to lead it into the 2020 general elections.