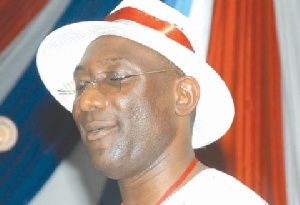 Suspended Second Vice National Chairman of the opposition New Patriotic Party (NPP), Sammy Crabbe says he will campaign vigorously to make the Presidential Candidate of the Party, Nana Akufo-Addo president in the 2016 election.
According to the beleaguered party bigwig, in spite of his suspension which he describes as a coup d'etat, he is duty-bound as a dedicated member of the 'elephant party' to ensure Nana Addo emerges victorious in next year's election.

Mr Sammy Crabbe and the General Secretary, Kwabena Agyepong were on Thursday relieved from their post indefinitely on grounds of misconduct.

This was after a crunch meeting by the National Executive Committee of the party over a recommendation by the Disciplinary Committee to suspend the duo.

The decision comes barely two months after slapping a similar sanction on the National Chairman of the Danquah-Busia-Dombo Tradition, Paul Afoko.
The sanctions were recommended by the Disciplinary Committee after some party members filed petitions of misconduct against the duo for openly questioning the party's decision to suspend Paul Afoko among others.

But speaking to Fiifi Banson on Anopa Kasapa on Kasapa 102.3 FM, Sammy Crabbe stated that his readiness to support the Presidential bid of Akufo-Addo in spite of the injustice done him does not mean he agrees with the party's position against him.

He also disagreed with assertions that the party has succeeded in getting out the pro-Kufuor elements in the national executive.

"I don't think my suspension makes perception right. If there is someone I'm close to it is rather Nana Akufo-Addo and not Kufuor. I'm related to him Nana Addo, but I'm strongly opposed to how certain people who feel they love Nana are running the party which is sure to cause us problems."