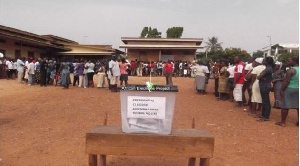 Wed, 7 Dec 2016 Source: Today Newspaper
Independent parliamentary candidate for North Tongu constituency in the Volta Region, Mr. Christopher Kofi Eleblu, has declared that he will win the seat in the December 7, 2016 general elections.
According to him, his victory is hinged on the fact that the incumbent Member of Parliament (MP), Samuel Okudzeto-Ablakwa, has nothing to offer the constituents.

The former Internal Auditor of the Ministry of Health (MoH) promised the constituents a corrupt-free leadership and called on all eligible voters in the constituency to vote massively for him to win the December 7 parliamentary polls.

"Samuel Okudzeto-Ablakwa has failed in using his power as MP to change the lives of the people…since he was elected he has not even met a single community to discuss their problems.

"Any power that you acquire and do not use it in the interest of the people is fraudulent…because every power, whatever power it is, must be used in the interest of the people."

"I will not come into office and steal from you. I will not put all your money in my pocket. I am coming to serve you and give you an honest leadership," Mr. Eleblu made these assurances at his final rally which was massively attended at Juapong on Sunday, December 4, 2016.

He lashed out at Mr. Okudzeto-Ablakwa, saying he does not make himself available to the people and labeled Mr. Okudzeto-Ablakwa as an 'MP on paper.'
Mr. Ebeblu explained that the only times the people were privileged to see Mr. Okudzeto-Ablakwa were during his appearances on radio and television programmes, as well as electioneering campaigns.

He anticipated defeat for the deputy education minister in the December 7 polls, as the people have openly declared their support for him.

The support, he stated, was a demonstration of the change they had longed for all this while, tying his conviction to the fact that he had lived with the people, and as such, could testify to their development difficulties.

The independent candidate gave the assurance to meet the needs of the people, when voted for, come December 7.

Mr. Eleblu also emphasised that long before he conceived the idea of becoming an MP, he was involved in a number of community development activities, including the building of classroom blocks and putting up accommodation facilities for teachers, paying school fees of pupils and students with his own money.

"..I have a responsibility to interact and share ideas with you, who voted for me, and I will also not give you GH¢20 with the aim of getting your votes, as it was being done, but will equip you to enrich yourselves," Mr. Eleblu assured.
Source: Today Newspaper