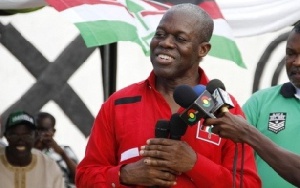 Vice-president Kwesi Amissah-Arthur has clarified a speech he made on Friday August 26 where he stated that the governing National Democratic Congress (NDC) would respond to the New Patriotic Party's accusations in equal measure as the 7 December elections approach.
Mr Amissah-Arthur had, at the launch of his party's Central regional campaign at Agona Swedru, said: "It is the empty vessel that makes the most noise. The NPP has accused the NDC of not achieving anything in government. President Mahama has released the Green Book, our achievements as a government can be seen in that Green Book. While members of the NPP were insulting us, we were working. From now onwards, if they say one, we'll say two. The NDC's achievements in government are more than those of the NPP."

But speaking during the annual convention of the Musama Disco Christo Church at Gomoa Mozano on Wednesday, Mr Amissah-Arthur explained that his comment meant that if the opposition mentions one achievement of theirs, the NDC will mention twice or three times the number to point to their achievements, particularly as captured in the Green Book.

He said he did not believe in the politics of insults and was committed to peace ahead of the December polls.
Mr Amissah-Arthur told the congregation: "President Mahama, the government he leads, and the party that has nominated him for president are committed to peace and we expect all political actors to commit themselves to peace, and the church has a role to play to continue to teach and to preach a message of peace so that we can have peaceful elections."

"On my part as vice-president, I am committed to peace. I do not believe in confrontation politics or the politics of insults; that is why I have to correct an impression in Agona Swedru where I spoke last Friday. I was stating my strong belief that this government I serve, the government of President Mahama, has a superior record of accomplishment and delivery of development. Therefore, if our opponent mentions one achievement of theirs, we can mention two or maybe even three. … As I said, our Green Book has captured all our achievements."