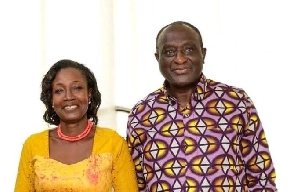 The wife of Alan Kyerematen, a former flagbearer hopeful of the New Patriotic Party (NPP), Patricia Christabel Kyerematen, has said that she supports her husband's decision to leave the party.
Speaking to the media after Alan announced leaving the NPP and running as an independent in the 2024 election, Patricia Christabel Kyerematen said that she is fully behind her husband's decision to go independent in the 2024 elections.

"I'm giving him every support with the strength that God has given me because you will agree with me that now the signal is clear and it is more than possible that this would happen.

"Alan Kyeramanten is a good man, he is an honest man, he is a man with a vision. He is what Ghana needs at this particular time," she said.

On her husband's chances of winning the 2024 election, she said, "There is nothing impossible if God permits it".

About Alan's resignation from the NPP and running as an independent candidate in the 2024 election:

Speaking at a press conference in Accra, on Monday, September 25, 2023, Alan Kyeremateng, announced his decision to leave the NPP and also contest as an independent candidate in the 2024 presidential elections.
He said that even though it was his wish to become president of Ghana on the ticket of the NPP, the party has now been hijacked by 'unscrupulous party apparatchiks'.

"The NPP as it exists now has very little resemblance to the Party that I joined in 1992 and helped to nurture. The Party has been hijacked by a selected group of Party leaders and elders, government appointees, "behind the curtain power brokers" and some unscrupulous Party apparatchiks.

"... I wish to use this platform to announce that I am honourably resigning from the New Patriotic Party to contest for the high office of the President of the Republic of Ghana in the 2024 general elections as an independent presidential candidate," he said.

Alan added that his presidential ambition would be run by a movement led by the youth.

"To actualise this goal, I will establish and lead a new MOVEMENT FOR CHANGE in Ghana. The brand logo for the MOVEMENT is the Monarch Butterfly, which politically symbolizes change and transformation, hope, and positivity. It also communicates strength, endurance, spirituality, and trust, which are key traits that I cherish as a Political Leader. In Akan, it is known as Afrafranto. The brand motto of the MOVEMENT is "Ghana Will Rise Again," which symbolizes hope for the future of Ghana.

"The new Movement will be led and powered by the youth of Ghana. Out of the over 17 million registered voters in the 2020 general election, the youth aged 18-35, years constituted over 9.4 million voters representing 55% of the total voters," he said.
BAI/OGB

You can also watch the latest episode of Everyday People on GhanaWeb TV below:



Ghana's leading digital news platform, GhanaWeb, in conjunction with the Korle-Bu Teaching Hospital, is embarking on an aggressive campaign which is geared towards ensuring that parliament passes comprehensive legislation to guide organ harvesting, organ donation, and organ transplantation in the country.

Click here to start the nomination process for the 2023 GhanaWeb Excellence Awards