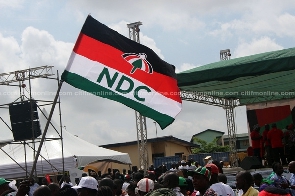 Tue, 30 May 2023 Source: GNA
Nelson Kofi Djabab, the National Democratic Congress (NDC) parliamentary candidate for Krachi East, Sunday expressed gratitude to God for his electoral victory during a thanksgiving service at the Church of Pentecost, Dambai Lakeside branch of the OtiRegion.
The newly elected candidate grasped the opportunity to urgethe Christian community to rise to its religious responsibility and stimulate the desired motivational spirit of renewal and transformation for effective nation-building.

He said religious groups, including the Christian community, had played an important role in national development and their services were praiseworthy.

"The growth of the Church should be measured not only by the number of its followers but also by the quality of its members, who are dedicated to upholding the spiritual virtues of Jesus Christ to build a progressive and prosperous Ghana, strongly anchored on the love for God," he said.

Djabab called on religious organisations and the youth to ensure harmonious coexistence to enhance national development.

He expressed appreciation to the clergy, Imams, traditional leaders, branch, constituency, regional and national executives of the NDC for their support in his first attempt atrepresenting the constituency in Parliament in a keenly contested primary on May 13.
Delivering the sermon, Pastor John Nyarko Akyirem, the District Pastor of the Church, commended the parliamentary candidate-elect for the step taken to give thanks to God forHis mercies.

He advised him (Djabab) to form a formidable team that could be likened to that of Moses, Joshua and Aaron to be able to win the constituency seat.

The parliamentary candidate was accompanied by Peter Yaw Awuranyi, former Krachi East District Chief Executive, Madam Paulina Magyian, the Oti Regional Women's Organiser of the NDC, and Sarfo Nketia, constituency secretary.

The others are Peter Nlepa, constituency Communication officer, Edem Gidisu, former constituency secretary, John Adukpo, Vice chairman, and some party supporters.
Source: GNA