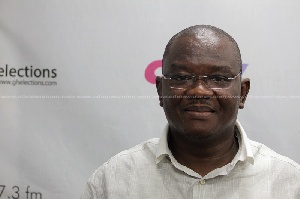 A flagbearer hopeful of the opposition National Democratic Congress(NDC) Sylvester Mensah says he is much relieved "level-headed" people have assumed leadership in the party now.
His comment is in response to a suggestion by former National Organizer, Kofi Adams who told aggrieved aspirants that complained about the playing of John Mahama campaign songs at the latter part of the Congress to submit to the party their own songs so it could be considered in other events where possible.

But Mr. Sylvester Mensah in a reaction on Monday on Anopa Kasapa berated the former NDC official for his comments.

"You go to a national congress and you play the song of one presidential aspirant when you have twelve presidential aspirants. And so if all Presidential aspirants had brought their songs to be played could we have played 12 songs for 12 Presidential aspirants? I mean ,this is non-commonsensical but off-course thankfully he's no more the National Organizer.

He added: "Thankfully we have more level-headed people taking over leadership of the party and we are confident the party would be able to put the past behind us."

The former NHIA Boss also asked the rank and file of the party to push to the back burner the disturbing happenings at the 9th National Delegates Conference that almost marred the successful event.
"Whatever that happened at Congress which nearly marred the beauty of a very successful conference can be put behind us. I think we need to look forward; we don't always have to look back at challenges and difficulties and frustrations particularly of misguided elements. Let us look forward with hope that the new leaders who have emerged have what it takes. and i have absolute trust and confidence in them."