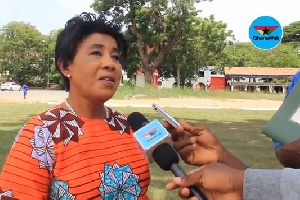 An aspiring national organizer in the upcoming National Democratic Congress (NDC) internal race, Madam Anita Desoso has said, she is not a soft nut to crack despite being the only female in the race with the likes of former national organizer, Yaw Boateng Gyan, current Deputy Organizer, Joshua Hamidu Akamba, and Baba Jamal, a former appointee of former President John Dramani Mahama.
As a strong cadre with 39 years of being a strong politician, the First Vice Chairman of the NDC told Kwabena Agyapong that, she is not going into a fight with anyone nor is she going into a bout with anyone but will surely emerge as victor God willing.

She commended the media for supporting her political career and said, she has become one of the strongest female politicians since the early 80s due to the support she received from the media.

The internal contest she said will be about contest of ideas and track record. Delegates she opined will elect leaders who have a solid track record and the commitment to work for the party.
Madam Desoso said, "nobody forced me to contest. I came into the contest based on my personal decision. I am hopeful by the grace of God, I will surely win the race.''

According to her, she is unperturbed about the other candidates who have been described as stronger she is. She added, "the other candidates are now afraid I joined the contest. I am confident and not a politician who is scared of the contest.''

She has also admonished delegates to vote for competent, dedicated and committed persons on Saturday October 27, 2018 during the youth and women organizers race.