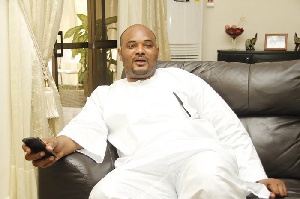 A former Youth Organiser of the People's National Convention (PNC), Abu Ramadan has said he knows nothing about a demonstration by the party youth on Monday, demanding the immediate removal of the General Secretary, Atik Mohammed.
According to him, he heard it for the first time as a news item on radio in the afternoon and had to find out from one of the executives those behind it.

His statements follows an accusation by Atik Mohammed of being behind the irate supporters who besieged the party office, because Abu had earlier given him and the party Chairman a week ultimatum to resign or face his wrath.

Ramadan since the party's disqualification from contesting the December 7th polls has been up in arms with General Secretary and the Chairman, Bernard Monarh, to resign for their negligence and incompetence.

But speaking on Asempa FM on Wednesday, Abu Ramadan said he is saddened that the boys did not engage him to join.

"I'm not behind the demonstration, notwithstanding I support it. I would have announced it on radio and given them directions on how to go about it if they had informed me", he stated.
He wondered why Atik Mohammed would further subject the party to ridicule by saying it was not attractive to be sold to parties as the youth alleged.

Aside that Mr. Ramadan said the two party executives deserved a sack because out of the 275 parliamentary seats in Ghana, they filed only 65 seats, deepening his call for their resignation.

"I am not asking them to resign because I am interested in their positions, I campaigned and supported the candidature of Atik Mohammed" he stressed.

The chairman and the General Secretary should resign and allow the party to move forward, he added.