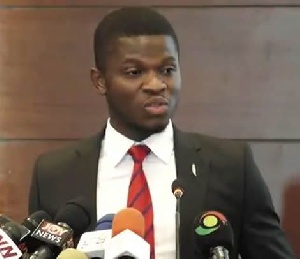 Sun, 30 Sep 2018 Source: Daniel Kaku
The aspiring National Communications Officer of the opposition National Democratic Congress (NDC), Sammy Gyamfi has reaffirmed his decision to support former President John Mahama in his bid to be the flagbearer of the party.
According to him, he does not support Kojo Bonsu as speculated.

Mr. Bonsu paid a courtesy call on former President Jerry John Rawlings to inform him of his intention and to seek his blessing, just as most of the aspirants to the flagbearer slot have done.

Mr Rawlings tweeted on Friday, 28 September: "I received @KOJOBONSU10 and his team today. I wished him well. He has a determined spirit.#KojoBonsu2020".

Bonsu has joined a raft of aspirants including former President John Mahama, former Minister of Trade and Industries Ekow Spio-Garbrah, former Greater Accra Regional Minister Prof Joshua Alabi, former CEO of the National Health Insurance Authority Sylvester Mensah, former Central Regional Minister Kweku Ricketts-Hagan, former aide to Mr Rawlings Goosie Tanoh, Second Deputy Speaker of Parliament Alban Bagbin, legal practitioner Elikplim Agbemava, businessman Nurudeen Iddrisu and Handyman Stephen Atubiga.

Some media platforms are said to have reported that Sammy Gyamfi who was the Spokesperson for Bonsu has endorsed him and even went ahead to congratulate him for his announcement.
But in a statement signed by Sammy Gyamfi, he indicated that no such statement has been authored by him and described it as malicious and false.

"I wish to state emphatically that I have not issued any such statement to the press and do not subscribe to it. The said statement is a malicious and desperate creature emanating from the stables of my detractors and must be treated with the contempt it deserves", the statement emphasized.

"I don't intend to dignify the said statement with any elaborate thought or response, but for the sake of the many NDC supporters who are concerned and disturbed by this mischief, I would like to set the records straight.

"I was privileged to have been given the opportunity to work with Hon. Kojo Bonsu as his spokesperson when he was Mayor of Kumasi from 2013 to 2016. During that period, I discharged my duties to him, the KMA, the great NDC and my beloved Country to the best of my abilities. I remain grateful to him for that opportunity.

"My stance on who is the best person to lead the NDC into the 2020 Election is a matter of public knowledge. I have constantly maintained that H.E John Dramani Mahama (JDM) remains the NDC's surest bet for victory in the 2020 upcoming Election, and I have not deviated from this position in the remotest of forms. I still believe that he is the best person who can lead the NDC to restore hope to our grassroots and to recapture power come 2020. This position of mine remains unchanged and therefore, I cannot and will not be party to any agenda other than that of H.E. JDM" the statement read.
Gyamfi urged Bonsu to rescind his decision to contest in the upcoming presidential primaries.

Bonsu together with Joshua Akamba were the brains behind the party's "Unity Walks" which were organised to restore hope for the disgruntled members of the party after the party's humiliating defeat in 2016 by the NPP.

The "Unity Walk' which was aimed at restoring hope to members of the NDC across the country was hijacked by Mr. Mahama to keep his name and face alive.

After the declaration, Joshua Akamba who is a closest to Bonsu has distanced himself from his declaration and described Mr. Bonsu as a traitor.
Source: Daniel Kaku