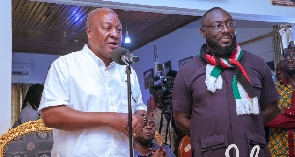 Despite being defeated at the just-ended by-election in the Kumawu Constituency of the Ashanti Region, the National Democratic Congress (NDC) Parliamentary Candidate has hinted of a comeback in 2024
Mr. Kwasi Amankwaa insists that the outcome of the polls is no justification that, Kumawu is the stronghold of the New Patriotic Party (NPP) as they claim, expressing optimism of annexing the seat in 2024.

He argues that the area cannot be regarded as the stronghold of the NPP since there are no major developmental projects to back their claim and also to inure to the benefit of residents.

Speaking to TZ XYV in an interview a day after losing the by-election, Mr Kwasi Amankwaa also revealed that, he will come back in 2024 to take back the seat.

"...come in 2024, I'll be the NDC candidate; this was just a by-election. However, I won't accept the claim by the NPP that Kumawu is their stronghold because there is no justification for that claim", Mr Kwasi Amankwaa maintained
"I will only accept that after they prove themselves of how they've developed the area. They can say that on the basis of the kind of project they've brought to Kumawu and how development the constituency will be, but until then, they have no justification for the fact that Kumawu is their stronghold", he insisted.

Mr Kwasi Amankwaa the NDC Parliamentary candidate in the just-ended by-election in Kumawu lost to his main contender Mr Ernest Yaw Anim of the NPP.

Mr Ernest Yaw Anim of the NPP who is now the MP-elect for Kuamwu polled 15,264 of the total votes, Kwasi Amankwaa of the NDC 3,723 votes, Kwaku Duah the first independent candidate polled 2,478 votes while the second independent candidate Kwaku Duah had 62 votes.