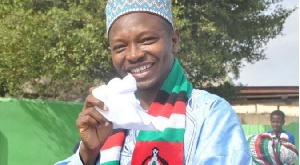 The Chief Executive Officer of the National Youth Authority (NYA), Ras Mubarak, who is contesting in the December 7 polls as the National Democratic Congress' parliamentary candidate for the Kumbungu constituency, has said his main focus is to increase the number of votes for President John Dramani Mahama in the constituency.
According to him, the parliamentary seat, currently being occupied by the Convention People's Party (CPP), is already in the hands of the NDC, although the elections are yet to be conducted. For this reason, so much of energy would be channeled into ensuring Mr Mahama wins more votes to retain the presidential seat.

Ras Mubarak contested in the parliamentary elections in the Ablekuma North constituency but lost to the New Patriotic Party (NPP). He shifted his attention to the Kumbungu constituency after his defeat.
Speaking in an interview with Emefa Apawu on Class91.3FM's 505 news programme on Tuesday November 22, Mr Mubarak said: "The work is not so much about the parliamentary seat, because the NDC will win, but the focus is mainly on upping the votes for John Mahama in the elections."