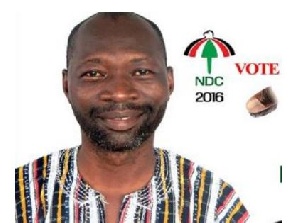 The Member of Parliament elect for the Daffiama-Bussie-Isa constituency Dr. Sebastian Sandaare has hit the road running to ensure that his people get improved health care services in the area.
This he is doing with the support of other health professionals who hail from the area in a health screening exercise which kick started on Wednesday.

The exercise, he told Kasapafmonline is part of efforts not only to bring health care services to the door steps of the people but also a means of equipping the health center to gradually cater for minor surgeries.

According to him,''we want to ensure that apart from treating or diagnosing the people who hitherto may not readily get these services due to the absence of a polyclinic or district hospital, we are also equipping the health center with some basic things. This we believe will help us upgrade this facility to status of a polyclinic or even a district hospital."

"One of the reasons I went into politics is to ensure development gets to our people and it has been my long held dream to get a hospital or a polyclinic so we are working to get that done", he added.

Dr. Sandaare hinted of seeking the support of every citizen of the are in order that the area which is one of the young districts gets accelerated development.
With the onset of the harmattan season, Dr. Sandaare cautioned people to avoid sleeping in over crowded rooms.

According to him," as this season has started it would get to a point when the weather will be hotter and dry, at this point I will advice people who sleep in over crowded rooms to avoid it. People should also drink a lot of water to prevent the outbreak of meningitis."

The MP elect who until his election was the district director of health services for the Lawra district disclosed that the region is adequately prepared to face any case of meningitis this year as they have in stock drugs meant for that purpose.

He also disclosed that more education has gone on to prevent the spread of meningitis this year.