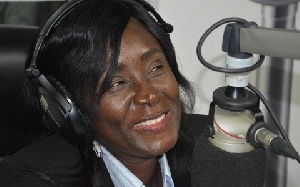 It is not possible for the National Democratic Congress (NDC) to win 50 percent of votes in the Eastern Region during the December polls, Member of Parliament (MP) for the Abuakwa North Constituency Madam Gifty Twum-Ampofo has said.
According to the Science tutor turned politician, the NDC is only tickling themselves by harbouring the idea of dividing the Eastern regional votes equally with the New Patriotic Party (NPP).

"NDC is tickling themselves. In life if you want to laugh, you can just tickle yourself and laugh and so that is what they are doing, they are just tickling themselves and laughing," she said on Class FM's 505 Extra on Tuesday November 1.

"It is not possible, not at all [for NDC to win 50 per cent in the region]. You have to be on the ground to know that Nana Addo Dankwa Akufo-Addo's message of change has gone down very well with the people [and] not just a matter of change. …All sectors of the economy [are in] deplorable state so people really are yearning for the change and they have the man ready for the job, for the positive change," she added.
According to Madam Twum-Ampofo, an Akufo-Addo led government will bring a change that "every individual will feel because the change is going to spread to all sectors of life from education, to health, from farming to industries, name them, so we are going to take the seat in a grand style".

Madam Twum-Ampofo won the Abuakwa North seat in a bye-election following the death of the sitting MP Joseph Boakye Danquah Adu in February this year.