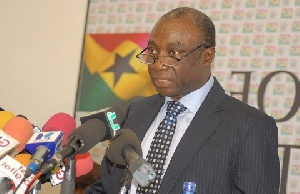 Former Power Minister and the current National Democratic Congress (NDC) lawmaker for Pru East constituency, Dr. Kwabena Donkor has asked members of the party to intimidate their opponents on another side of the political divide.
"I want you to intimidate them intellectually", he charged youth wing of the party at Tertiary Educational Institutions Network (TEIN) members.

"Study hard, make the first Class, make the Second Uppers and offer intellectual arguments", the NDC stalwart encouraged TEIN members of the University of Education, Winniba, Kumasi Campus.

"Let them know where you come from. Let them know you are from the great NDC", Hon. Dr. Kwabena Donkor added.

According to the former government official, the NDC neglected its core members and rather switched attention to NPP in terms of development and job opportunities for votes disclosing that bitter lessons have been drawn.
"We lost 2016 simply because our branches were weak….we did not pay enough attention to party structures especially the branches", he observed.

"We could not manage to place TEIN people in National Service in areas that could be strategic for us", Dr. Kwabena Donkor told TEIN members during a town hall meeting.

He appealed to the youth wing of the party to focus on joining forces as the party goes through restricting to make it a formidable force to reckon indicating that the NDC shall surely bounce back bigger and better in 2020