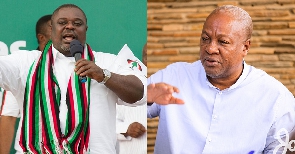 In a recent response to former President John Mahama's remarks regarding the impact of politics on fine minds, former Deputy General Secretary of the National Democratic Congress (NDC), Koku Anyidoho, has accused John Mahama of contradicting himself in the said comment.
Koku Anyidoho criticized Mahama for accusing others of literally having their minds destroyed by politics while having previously engaged in similar behaviour.

His response comes after John Mahama responded to Nana Akomea, the Managing Director of Intercity STC, who urged Mahama to stop accepting ex-gratia payments if he is serious about his promise to abolish them should he be re-elected.

Taking to Twitter, Mahama accused Akomea of distorting the truth and fabricating lies for political gain, suggesting that fine minds were being destroyed by politics.

In his reaction, Koku Anyidoho highlighted instances where Mahama himself had made controversial remarks. He mentioned Mahama's widely reported remark, where he referred to himself as a "dead goat."
He also reminded Mahama about the recent comment made by one of the NDC stalwarts cum lecturer Prof Kpessa Whyte who referred to the Supreme Court as a "Stupid Court."

"Indeed, it is very sad what politics can do to fine minds," Anyidoho stated. "Is it not politics that has destroyed fine minds to label the Supreme Court as a 'Stupid Court'? Is it, not politics that made a President refer to himself as a 'dead goat'? Thank God politics has not destroyed my mind," Koku Anyidoho said in a Twitter post on May 26, 2023.

It would be recalled that John Mahama in 2015 said he had become impervious to threats of strikes and demonstrations in Ghana and will not yield to any of such threats in the 2016 elections.

"I have seen more demonstrations and strikes in my first two years. I don't think it can get worse. It is said that when you kill a goat and you frighten it with a knife, it doesn't fear the knife because it is dead already.
"I have a dead goat syndrome," he told a Ghanaian population in Botswana where he was on a three-day official state visit.


Indeed, it is very sad what politics can do to fine minds. Is it not politics that has destroyed fine minds to label the Supreme Court as a "Stupid Court"? Is it not politics that made a President refer to himself as a "dead goat ????"? Thank God politics has not destroyed my mind

— Samuel Koku Anyidoho???????? (@KokuAnyidoho) May 26, 2023
You can also watch the latest episode of People & Places:





Meanwhile, watch the latest episode of SayItLoud on GhanaWeb TV below:


AM/SARA