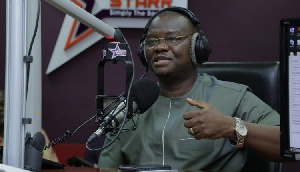 Flagbearer hopeful, Sylvester Mensah, says it would be a useless exercise for delegates to vote for former President John Dramani Mahama as candidate for the 2020 presidential race.
The former National Health Insurance Authority (NHIA) boss told Kwabena Agyapong on Rainbow Radio 87.5Fm that, a vote for Mr Mahama will make the party stay in office for just a year in 2020 hence the need for party delegates to vote for someone who can help the party stay in office for more than a term.

Mr Mensah indicated that voting Mahama as candidate, will make the party focus its attention in getting a candidate to represent it in 2024 instead of focusing on delivering it's policies.

He has therefore appealed to delegates to vote for him to represent the party and win the election 2020 and beyond.
He said, the party would have to vote for someone with the ability to deliver policies that will help create jobs, put money in the pockets of Ghanaians and create an enabling environment for prosperity.

He concluded by assuring party supporters of his policy to reward loyalty and strengthen the party to make it more attractive.