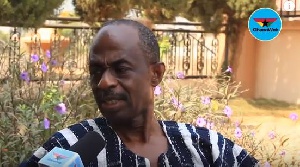 President Nana Addo Dankwa Akufo-Addo has disappointed Ghanaians with the appointment of Mrs Jean Mensa, Executive Director of the Institute for Economic Affiars (IEA), as the new Chair of the Electoral Commission, Mr Johnson Asiedu Nketia, General Secretary of the National Democratic Congress (NDC), has said.
According to Mr Nketia, President Akufo-Addo failed to stick to his assurance to the citizenry that he will appoint an apolitical person to head the election management body.

In his view, Mrs Mensa's conduct over the years does not portray her as a neutral person.

Mr Nketia told Chief Jerry Forson on Ghana Yensom on Tuesday, 24 July that: "President Akufo-Addo knows very well that Jean Mensa has issues with the NDC".

"The woman has, over the years, demonstrated that she is totally against the NDC, and, we in the NDC have indicated publicly the issues she has against us, and, so, her appointment as the EC Chair is worrying, she will work against the NDC and that is what President Akufo-Addo wants ahead of the elections."



He added: "We were not even consulted before the appointment."


President Akufo-Addo also named as deputy commissioners political science lecturer at the University of Ghana, Dr Eric Asare Bossman and Mr Samuel Tettey, Director of Electoral Services in charge of elections at the EC, pending approval by the Council of State.

The appointments follow the dismissal of EC Chair Charlotte Osei and her two deputies Amadu Sulley and Georgina Opoku Amankwah.