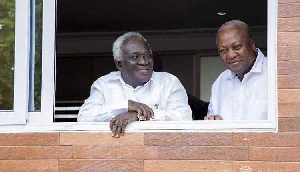 An Executive Member of the Centre for Democratic Transitions, Ghana Professor Kwamena Ahwoi has described former President John Dramani Mahama as the best bet to win back power for the opposition National Democratic Congress (NDC).
According to him, he watched him excel as a Deputy Minister and as President and is of the firm belief that he is the best thing to have happened to the NDC if the party desires to win back power in 2020.

A former Minister of State in a video circulating on social media is heard saying "to me John Mahama is the best man for the job. We need a steady and an experienced hand. Someone who can remain composed under the pressure of the campaign and still remain true to the values of our great NDC. JM has been there, he knows what he is about and how to handle the stress of leadership. I have worked with him before….I was Minister when he was Deputy Minister. I watched him perform as President and I have no doubt that he is the best hope to win 2020. To win 2020 I go for JM"

More than eleven persons have expressed interest in leading the NDC ahead of the 2020 polls.

So far Professor Joshua Alabi, Member of Parliament (MP) for Cape Coast South, Mr Kweku Ricketts – Hagan, Stephen Atubiga, Kojo Bonsu, Mr. Sylvester Mensah, Mr. Alban Bagbin, Former President John Dramani Mahama and Dr. Ekow Spio Garbrah have all announced their intentions to contest the presidential candidacy of the opposition NDC.
Meanwhile, Ninety-Four (94) out of the 106 minority Members of Parliament (MPs) have resolved to use their personal resources to campaign for former John Dramani Mahama to ensure that he wins as the flagbearer of the party ahead of the 2020 elections.

A statement issued and jointly signed by the group stated that they will also contribute their time and expertise to ensure the fruition of this noble course.

"This group, MPs4JM is made up of ninety-four (94) Members of Parliament from the Minority out of a total of one hundred and six (106) who have affirmed and reaffirmed their support for the candidature of John Dramani Mahama".

"Our support is volitional and of our free will. We have pledged to contribute our time, expertise and personal resource to campaign for His Excellency to ensure a resounding victory in the Presidential primaries and galvanize the entire party around His candidature to wrestle power from the clumsy and inept government of Nana Addo Dankwa Akufo-Addo", the statement copied to MyNewsGh.com revealed.